November 2022
Coghlan Art proudly presents available work by this great Canadian artist.
Norval was instrumental in the creation of our studio . His presence was a reminder of what an artist really is.
Norval's work is in museum and private collections around the world.
The work featured here is guaranteed original and authentic.
Letters of provenance and authenticity are provided.
Coghlan Art is an authorized agent of the artist.
**************************************

Follow us on FACEBOOK to keep
up on what's new in the gallery
Morrisseau Chronicles
a collection of essays and stories
.........................
Compare Authentic and Questionable works by Morrisseau on Morrisseau.com

Norval Morrisseau and Bryant Ross at the opening of the National Gallery show - Feb 2, 2006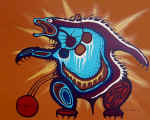 We are looking for authentic Morrisseau paintings
to add to our inventory. If you have one, and are thinking
about selling it, contact us about our generous buying
and consignment programs
NORVAL MORRISSEAU
click pic below for larger version
use your back button to come back
November 2022
Paintings are un-conditionally guaranteed authentic
Provenance back to the artist is provided
"Meeting Of Young Spirits"
1982
acrylic on canvas
34" x 53"
$25.000

"Shaman In Profile"
1985
acrylic on canvas
33" x 50"
$25.000 cdn

"Powerful Spirits of Bear and Owl"
1969
acrylic and India Ink on paper
12" x 16"
$4500

"In Honour Of Native Motherhood"
1985
acrylic on canvas
30" x 48"
$22.000

"Shaman Talking To The Animals"
1990
acrylic on canvas
48" x 96"
for more info contact the gallery

"The Masterpiece"
1982
acrylic on canvas
64" x 112"
for more info contact the gallery

"Bear and Loons"
circa 1985
acrylic on paper
22" x 30"
$10.000

"Bison and Moose"
circa 1985
acrylic on paper
22" x 30
$10,000

The Hunter
circa 1995
acrylic on canvas
59" x 64"
contact the gallery for price

"Demi God"
1985
acrylic on matt board
32" x 40"
$12,000

"Shaman;s Vision"
1994
acrylic on canvas
30" x 24"
$20.000


"Shaman With Spirit Self"
circa 1995
acrylic on canvas - 36" x 48"
$25,000

"Abstract Bears"
1985
acrylic on canvas - 33" x 50
$25,000 cdn

"Snake Protecting Man"
1969
acrylic and India Ink on paper - 12" x 16"
$4500
"Mother Earth"
1970
acrylic and ink on paper
18" x 24"
$10.000


"Fish Cycles"
1994
acrylic on matt board - 32" x 40"
SOLD

"Spirit Fish"
1970
acrylic on kraft paper - 21" x 30""
SOLD

untitled (Sexual Shaman)
circa 1992
acrylic on canvas - 47" x 47"
sold

"Ojibway Demi God"
1969
acrylic and India Ink on paper - 12" x 16"
$4500

Merman
1970
india ink and acrylic on paper - 15" x 11"
$4500

Water Fowl
circa 1985
acrylic on canvas - 34" x 33"
sold
Limited Edition Prints
hand signed by the artist

Family
2005
Limited Edition Seragraph - edition of 220
28" x 28"
$1100


Mother and Child
2005
Limited Edition Seragraph - edition of 220
20" x 26"
$900


Gabe
2005
Limited Edition Seragraph - edition of 220
13" x 17"
$500


Self-Portrait
2005
Limited Edition Seragraph - edition of 220
13" x 19"
$700



"As The Artist Sees Himself"
1992
Limited Edition Print
Edition - 220 signed and numbered
image size - 21.5"x16"
$500 can

"First Meeting"
1992
Limited Edition Print
Edition - 220 signed and numbered
image size - 15.5"x22.5"
$500 can
See New Morrisseau Giclee Prints
at Morrisseauprints.com